This series of pages was generated from a series of studies on John 17, Jesus high priestly prayer.   Our Wednesday evening intercessors' group studied this series together from May to September of 2012.  Besides my own study, resources for the series included: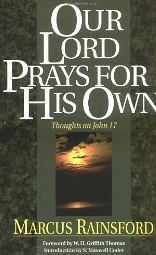 The key resource was Our Lord Prays for His Own by Marcus Rainsford, Kregel Classics, Grand Rapids, Michigan 1985.   This is a rich almost verse by verse classic source with many ideas and devotional sections as well.      Another shorter and more topical resource I discovered was Oh, the Deep Deep Love of Jesus by Michael A. Milton, Wipf and Stock Publishers, Eugene, Oregon 2007.
My method was to hand out the questions and discuss them using the answers I had written up as a resource for guiding the discussion.  At the end, I would hand out the commentary I had written.  Then, afterward at my computer, I would add in exceptional insights from the group members and post the cooperative result online.    While there are eleven studies listed, the lesson on Jesus' request for our sanctification took two weeks to cover. So there are really twelve weeks of study.
For studies entitled Jesus Prays for Our Unity and Our Future, I did not get the answers written out ahead.  However, I have included the question sheets as resources for anyone who is using the series. I took notes on our discussion and when I finish the articles, I will include them.