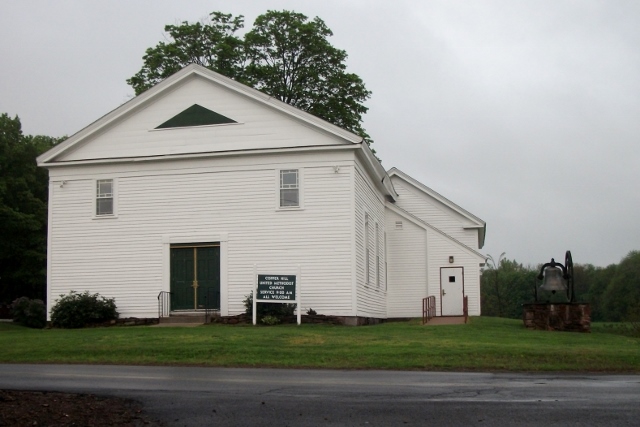 Today it was announced at both churches that I have a new part-time pastorate in Connecticut starting in July after my retirement from full-time ministry here in Kirkville.   I will begin serving as the pastor at a very old and historic United Methodist Church at Copper Hill, Connecticut.   There is a very roomy parsonage that comes with the assignment where JoAnne and I will reside.   The parsonage is 10 or 12 minutes from the church and both are about 30 minutes from Keely and Mark and Sam.   
The sanctuary of the church is well preserved and was built in 1839—that's four years before the Wesleyan Church was founded.   It was near the site of a famous camp-meeting grounds.   Like my home church in Haskinville, NY, it was built at a country crossroads.   However, today the hills and vales are thick with modern houses so there is a great opportunity for expanded ministry.   There is also a golf course across the street and a rails-to-trails trail a few hundred yards away as well. 
The best part was the warmth and genuine sense of ministry anticipation that we saw in the staff parish committee with whom we interviewed.    They made us feel very welcome and appreciated from the start.   I could sense the faithful perseverance in the Christian faith that has enabled the church to survive all these years.   I think they will be very receptive to our ministry there.   
This position for us is an answer to prayer.   We were looking for the good works prepared in advance for us to do after retirement.   This will be very meaningful without being too draining.   The economic boost will  help us to handle Connecticut costs as well.   So we are very thankful for this provision and looking forward to serving God together with the folks at Copper Hill.