Gratitude
This past weekend at NY Annual Conference of the United Methodist Church I was officially stationed as pastor at Copper Hill United Methodist Church for a seventh year. I am thankful to God and to District Superintendent Rev. Alpher Sylvester and Bishop Thomas J. Bickerton for the opportunity to continue to serve as pastor to our semi-rural community. Many my age are long since retired, but my wife and I have not wished to stop the purpose-driven life that we have lived. We like the semi-retired lifestyle serving this appointment offers. And we continue to feel loved and supported by our church family. Even though we know that it cannot continue forever, we are grateful for each year that we can enjoy the grace-filled and fortuitous combination of good health, good relationships with our church family and favor with higher church leadership. And living in the large country parsonage provided is a big blessing as well. The air here even smells like where I was raised in Western New York.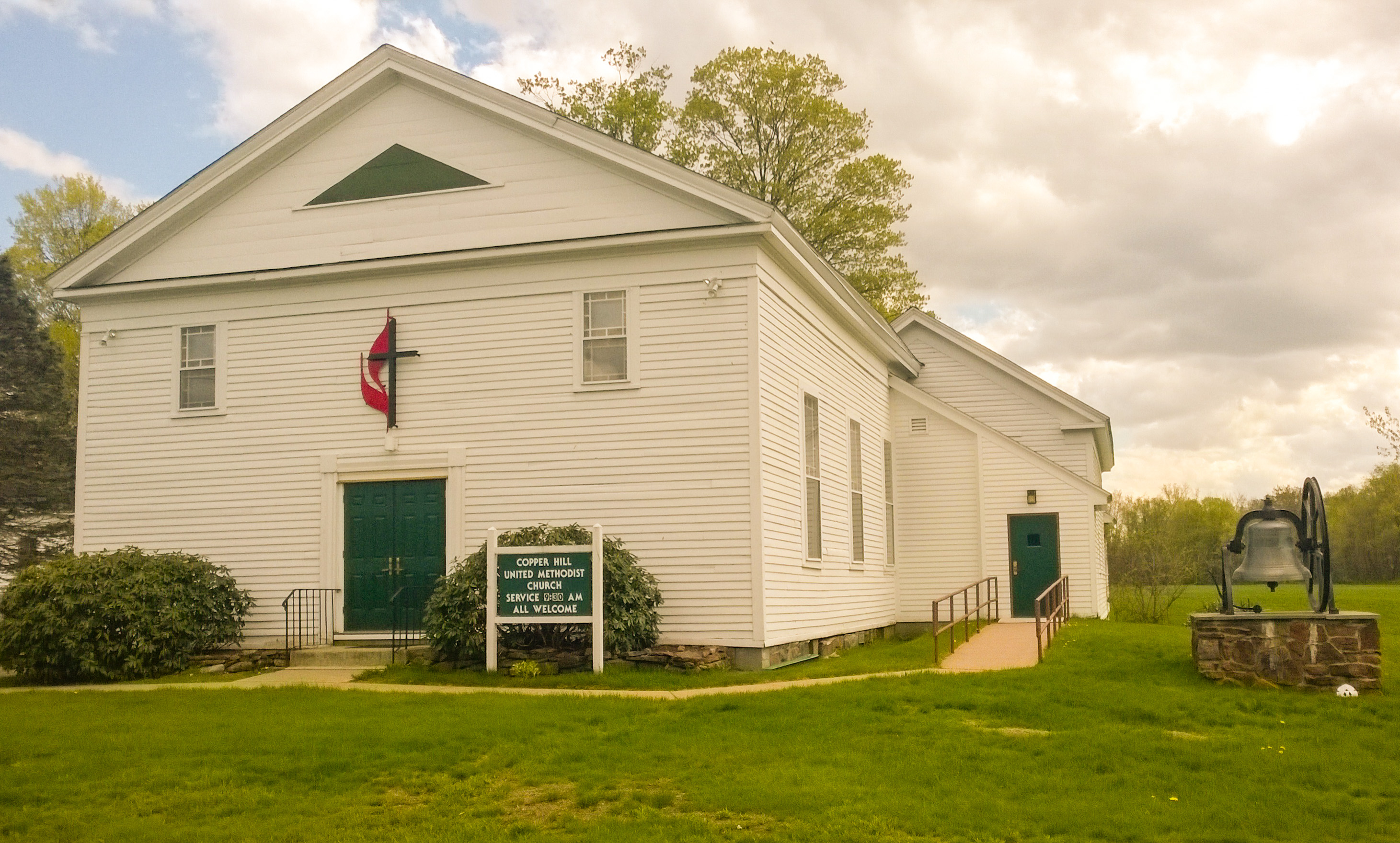 Copper Hill United Methodist Church
Purpose
Yet overall, God is sovereign, and so beyond my likes and the vicissitudes of pastoral appointments, I look for God's purposes in granting this seventh year. That is most important.
As I seek to discern these, one purpose which rises to the top in my consciousness is the expectation of a very special confirmation class which is tentatively scheduled to begin in January 2020. As a church, we have been focusing many efforts on discipling the children God has sent. A significant number of them will be of age for confirmation class in this coming year and I eagerly look forward to that class. The class could be twice as large as any we have had so far. Sheri Mandirola has already agreed to assist as she did with the last confirmation class.

Another purpose for which God may have granted a seventh year is that I am scheduled to officiate at two weddings of granddaughters of regularly attending members of our church during this coming summer/early fall. A generation ago, pastors doing weddings was routine and automatic. Not so now! In today's world, it takes time to build the relationships that result in the invitation to perform a wedding. I am looking forward to these two occasions.
Third, one of the huge challenges facing our local church is the slow but essential task of passing the torch of leadership to the next generation, a challenge that was identified in our 2020 Vision Plan. A continuing pastorate helps us make progress toward that goal.
Finally, I believe God is granting me a continued opportunity to help give perspective to our church and position it for the future as we navigate together the current troubled times in the overall United Methodist Church. Hints from the high church leadership are pointing more and more toward a future with "multiple expressions" of Methodism, whatever that will mean. Details will likely take years to sort out. In the meantime, it will be important to be the church where we are as I have been encouraging all along. Eventually, as decisions come along, it will be crucial to have already developed a "bless and send" mindset rather than a "fight and rend" approach.
Bonus
I have one more thought. Personally, I can't help but look at this year as a bonus. As I came to Copper Hill Church my goal was to serve six years. I even mentioned that number in my initial discussions with both the DS and the SPR committee when I was asked how long I wanted to serve. It is hard to believe that six years have come and gone. This is already the seventh summer that my grandson has swung on the big swing set that was in the parsonage lawn when I arrived. In the Methodist Church, it is always just one year at a time. By God's providence and grace, I have been granted another year to make the most of my role as pastor, responding to our Lord's admonition, "We must work the works of him who sent me while it is day; night is coming when no one can work"(John 9:4 NRSV).