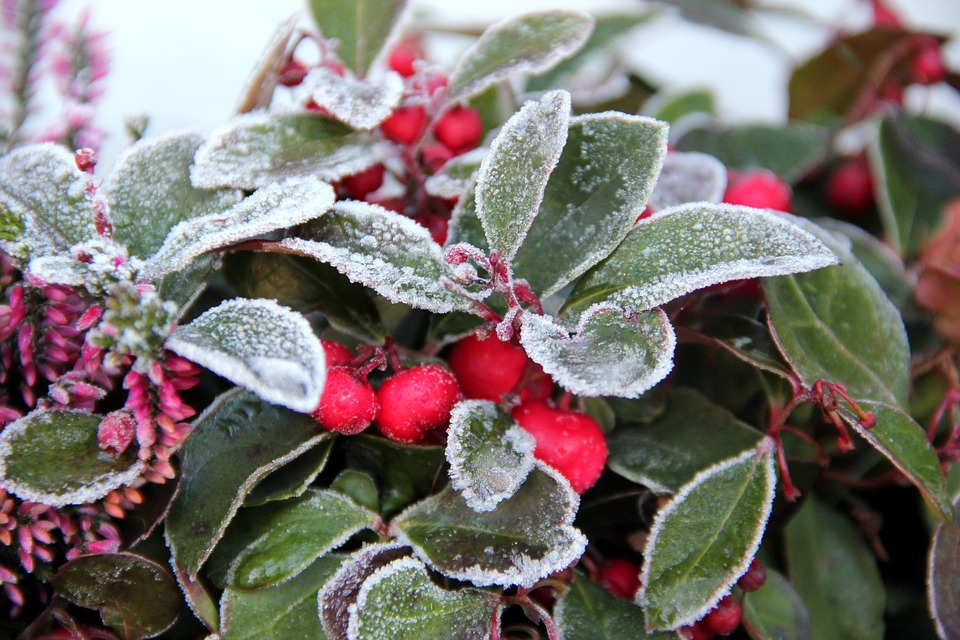 Hurry before it frosts
It's an annual tradition for me to gather cut flowers the day before the first frost and make a couple last flower arrangements for the season.  I enjoy this ritual immensely.  It is really the only time I cut marigolds as they are laborious to arrange and they look so great in my flower beds that I don't want to sacrifice any blooms until frost is imminent.  Because of the urgency of this pre-frost task, I have been known often to pick the flowers by flashlight because I have been too busy to pick them earlier. First frost never seems to come at a convenient time.  Now, I could just let things go.  After all, I've enjoyed the flowers all summer.  But I simply can't stand doing that when I can have at least one more beautiful bouquet.
Delayed frost this year
This year here in Connecticut has been an unusual one.  Twice the weatherpersons predicted frosts and I went out and gathered flowers and arranged them.   But the anticipated frosts did not come. The second time we had a little frost on the cars but still none on my flowers.   So I had beds and pots of gorgeous flowers all through October.  Not until this past week, on the third warning, after my third set of pre-frost flower arrangements did it finally frost.  Thursday, November 9 marks the latest first frost I remember.  Attached are pictures of all three sets of night-before-frost flower arrangements.   By the third one, the zinnias were no longer available but I decided to try a miniature arrangement of verbena, lobelia and Dara carrot.   It goes so well with my wife's fall décor.  My grandmother, Jessie Isaman, used to make miniature arrangements. I thought of her.
A reminder of the urgency of doing good
Picking flowers before frost speaks to me of the urgency of getting some special things done before…..   For people of my generation, several life events from the autumn of life could go in that blank.   "Frost" could be semi-retirement or full retirement.    It might be ill health which brings disability preventing us from doing what we had planned.  It could be the illness of a loved one.  It could be financial loss or an unplanned or a necessary move.   And "frost" ultimately might stand for our passing on to face our accountability before God (Rom. 14:12; Heb. 9:27).     
When I was still in full time ministry, there were some things I wanted to accomplish before I retired but I don't think I felt sufficient urgency.  Hopefully I've learned from that and in my current part-time ministry, when I think of some key goals I almost nourish a sense that time is too short before "frost" arrives.  "Frost" in this case could be just the end of my current assignment or it might mean full retirement, but whatever it is, time always seems shorter than one thinks.  "Frost" will arrive before we are ready.
Make the most of time before "frost"
So before "frost" comes, whatever it may be, I want to pick some more blooms and arrange them well in my life.  What I mean is I want to live productively.  I want to take good advantage of the time God gives.  The Bible exhorts us to "make the most of every opportunity" (Eph. 5:16); and I believe that God has a purpose for every day (Eph. 2:10).    So I'll use my urgent gathering of flowers before yearly first frost to help me to have a healthy sense of urgency about doing the good deeds I need to do.   I could procrastinate but … it may frost!   I'd rather see the beauty of a few more bouquets.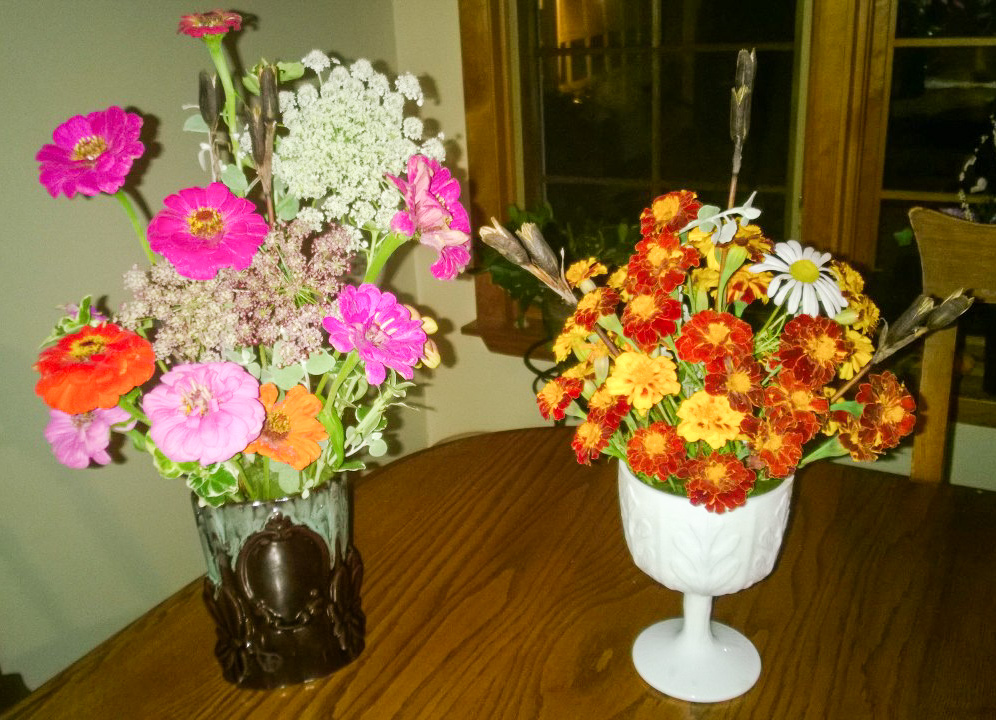 Before the first frost warning
My zinnias were at their peak.  The dara carrot looks great. My late shasta daisys  work well too.    The black and green vase was Grandma's.  She had great taste for that kind of thing.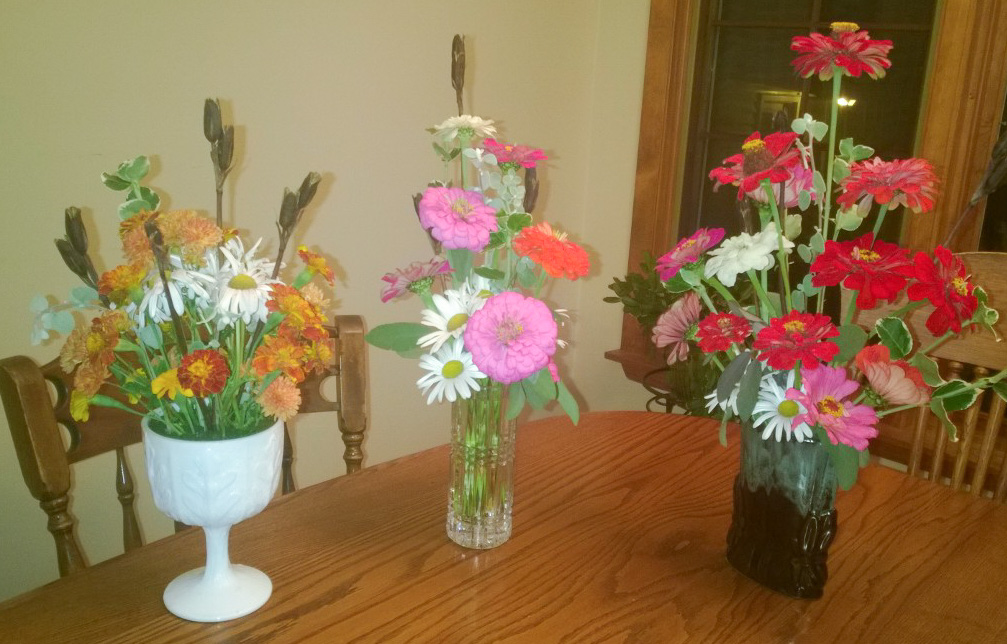 Before the second frost warning
Second chance.    Lots of marigolds still as the late rains helped them.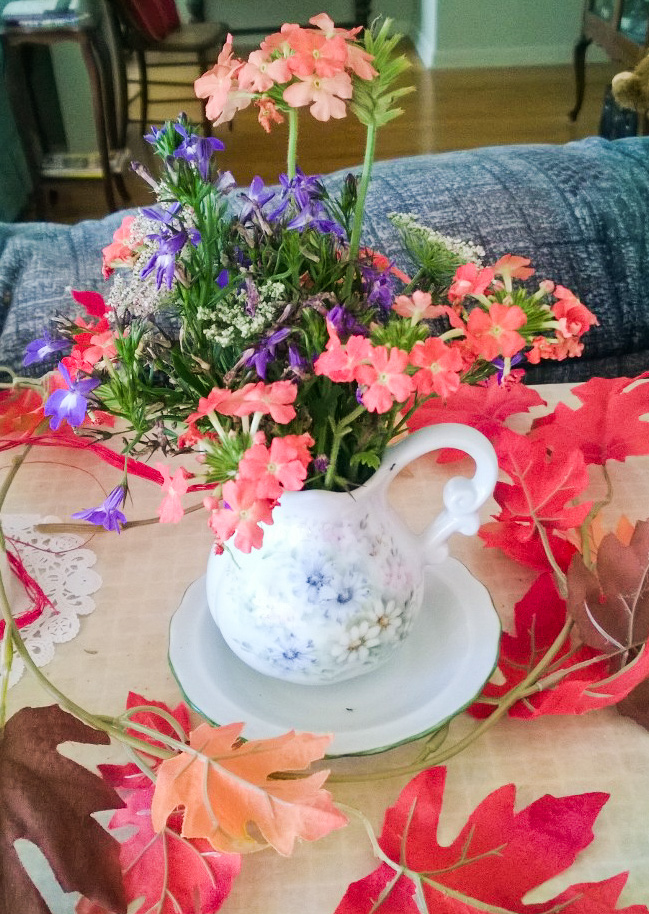 A miniature bouquet before the third frost warning
I saved some little flowers for this one that I had not used before- lobelia,  dara carrot and verbena.   One of the joys of all flower arranging is learning to use what nature provides. My grandmother, Jessie Isaman, used to make miniature arrangements. I thought of her.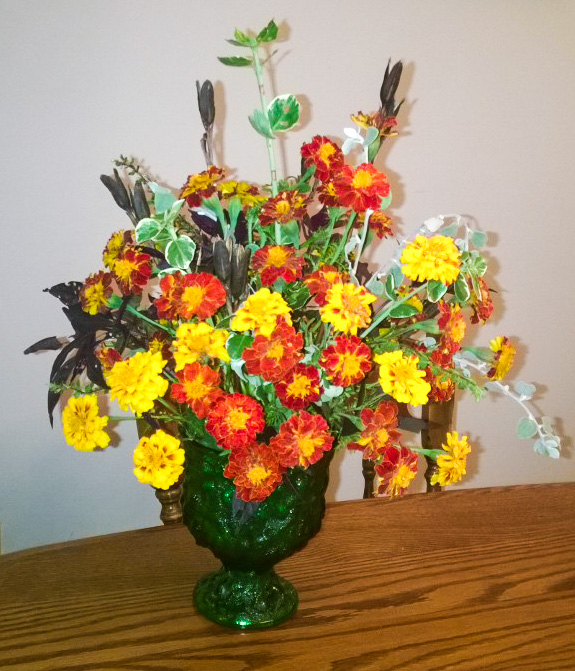 I just love marigolds
One last marigold bouquet.   I used some sweet potato vine for filler along with the licorice plant which grow abundantly in my tower pots.   I used the shrub out front and the seed stalks of the Japanese Iris for straight pieces.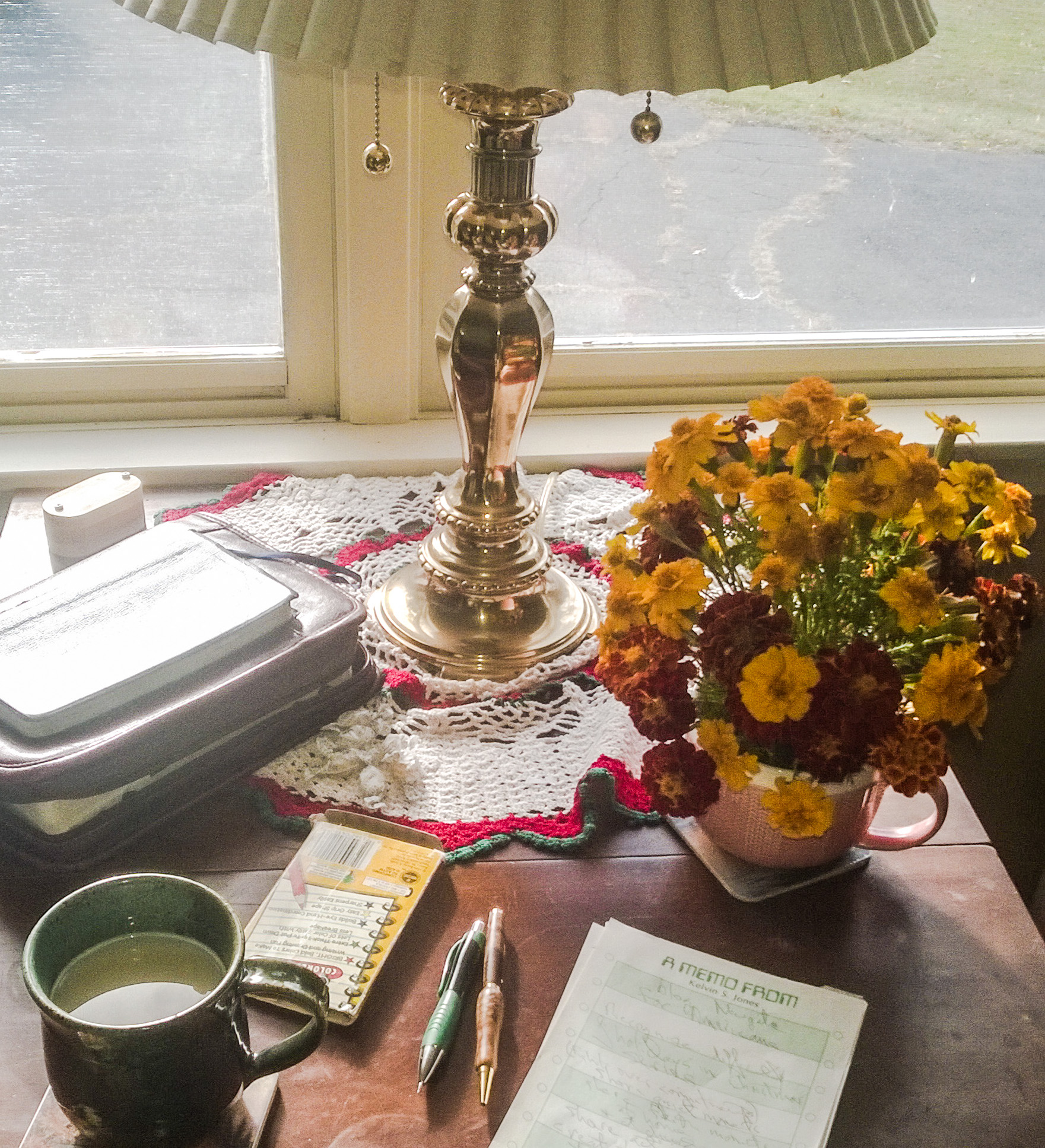 A pre-frost bouquet from 2016
The ultimate goal of bouquets is to fit well and beautify the place where you place them.  Here I am enjoying a cup of tea in my big chair along side my reading table with its cheery bouquet even though the flowers outside have frosted.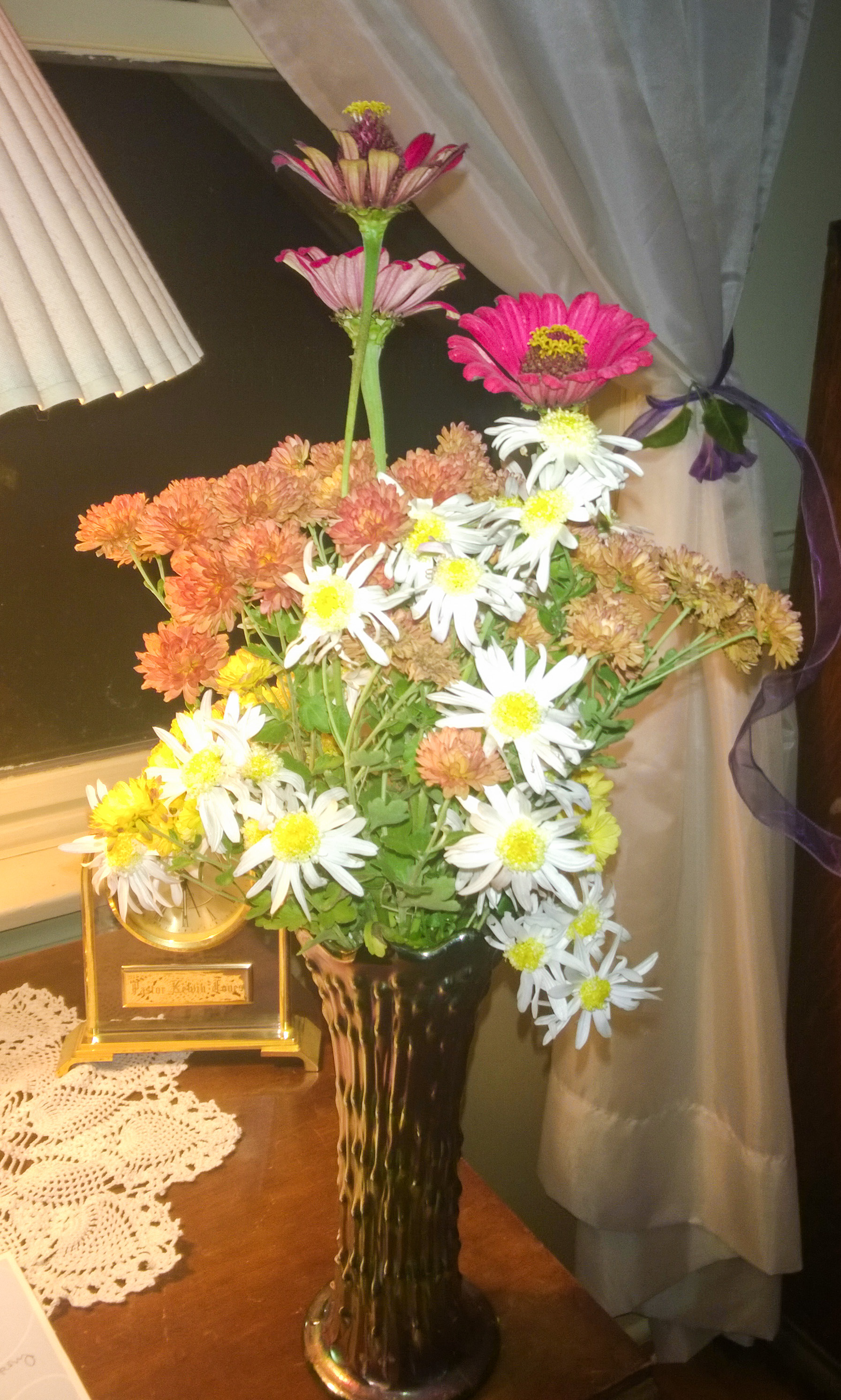 One from 2015
This one includes some mums in one of the vases I inherited from my Grandmother Isaman.    The family flower arranging tradition stems (pardon the pun) from her.