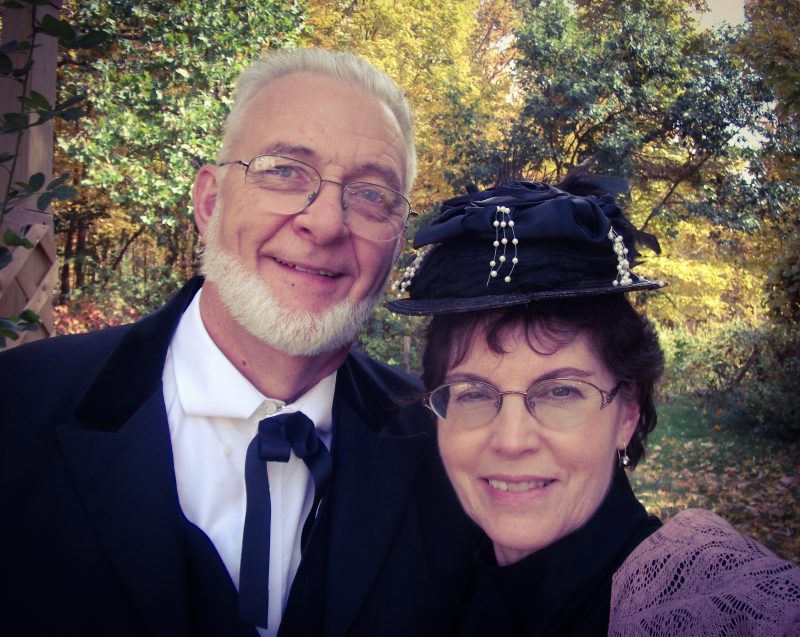 The early part of our church's history was during the Victorian era. So to enhance the sense of the age of our church, our Anniversary committee invited people to dress Victorian if they desired for the 200th Anniversary Sunday. JoAnne and I thought that would be a lot of fun. She has been a subscriber to Victoria magazine for a long time anyway. So we thought about how to make it happen. Actually, it was a serendipity for me. I saw in the Yankee Flyer that Simsbury Theater was having a costume sale so I showed up at their warehouse for it, explaining what I was looking for. They quickly told me that they had nothing that would help me on sale but that they did have such things for rent. That suited me fine —ahm — pardon the pun. So I had the able assistance of costumer Darlene of Simsbury Theater and her helper in getting fitted for Victorian clothes. Plus, Darlene found the perfect hat for JoAnne, who already had a black dress she felt would work for the occasion, one she had crafted herself years ago, and could still wear.
I had decided months ago to grow a beard for the occasion. I had never grown a beard before. I thought that if I ever did grow one it would be like Lincoln's. So now you see it.
Everyone loved our outfits. I even got to wear suspenders underneath. They are very comfortable, I must say. They even rented me a string tie. They could not find a 19th century round collared shirt big enough so I had to make do by folding the collar of one of my shirts under. But with that some compromise, I was good to go. Also, since it was an inside event, I did not need the top hat.
We had a lot of fun with it as you can see.