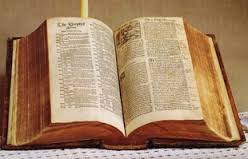 My wife challenged me on Facebook to list the top ten books that have influenced my life. I don't necessarily take up every Facebook fad. But this one I consider a very thoughtful and potentially helpful exercise. One of the proverbs I heard along the way is "Leaders are readers!" I agree totally. This challenge is also in keeping with one of the goals of my blog, to record the books I have read and comment on them. So here goes:
The Holy Bible – KJV Thompson Chain Reference. I was given this for Christmas by my parents when I was about 12 years old. It represents the Bible-learning culture in which I was raised. It was my earliest textbook for studying the Bible. I still treasure it and use it occasionally.
The Holy Bible – NIV 1984. This version of the Bible became the translation that I read day after day, the version that molded my mindset and helped me communicate the Gospel to a generation that had never heard of King James of England, nor did they understand his language. Now I read and use the 2011 NIV since I follow the Reformation principle that the Bible must be in the language of the people. But the 1984 version will always be in my heart.
Growing Spiritually – E. Stanley Jones. I was in seminary, I think, when I read this devotional classic. I was captured and challenged by the practical Wesleyan theology, poignant illustration from life, and excellent thinking by one who has become one of my favorite devotional writers. This book prompted a definite step forward in my own spiritual growth.
Developing the Leaders around You – John C. Maxwell. During my first pastorate I began to be mentored by the speaking and writing of John Maxwell. I didn't know how much I needed it. I now have a dozen of his books that I have read and I still consider this one among his very best. I also have a shelf full of others on the topic of leadership. This book started me on a whole different journey of not just doing well myself, but enabling others to do well. This intentional focus as well as trying to teach church leaders to do the same has added untold dimensions to my ministry and extended its effectiveness many years. It has enabled me to be a factor in launching or enhancing the ministry of many others too.
Communication: Key to Your Marriage – H. Norman Wright. With this book there was a companion volume The Pillars of Your Marriage. They were not deep, but they were practical. They were intended for class use and included discussion questions too. I interacted with these books and other similar ones at a time in our marriage when I desperately needed to learn more about how to have a successful marriage. They were very helpful both to me personally and in my ministry over the years to others.
Secrets of the Vine – Bruce Wilkinson. Sometimes you are looking for books that will prod spiritual renewal in your life. This is such a book. I have now read the book at least three times. The first time I read it, I wrote in the cover, "I finished this book today…it was a life-changing experience."
The 21 Irrefutable Laws of Leadership – John C. Maxwell. This is John Maxwell's classic. It has helped me immensely to understand leadership and learn to practice it. I am still learning and growing. This book confirmed for me that leadership is one of the three most essential areas of understanding/preparation needed by pastors. (The other two are preaching/teaching and counseling/personal work.)
Fresh Faith – Jim Cymbala. One of the areas I needed to grow spiritually as a pastor was faith. Reading Jim Cymbala's testimony-laced books is one of the ways God has helped me to do that. It is challenging and inspiring to read what God is doing at Brooklyn Tabernacle and it makes one pray for greater faith.
Just Walk Across the Room – Bill Hybels. Another of the great mentors for pastors today is Bill Hybels. This book is among his best. It is such a practical and everyday approach to reaching other people for Jesus. I think it is evangelism as it was meant to be. It has helped me to look for opportunities daily to be a blessing for Jesus' sake.
The Purpose Drive Church – Rick Warren. I had already been a pastor for 15 years when I read this book. I immediately said that it was the best book on how to do church that I had ever read. As far as I am concerned, it has not had a rival until Andy Stanley's Deep and Wide came out in 2012. Warren helped me to understand that discipleship was crucial and that I needed to help people step by step to move closer to the church as a part of their spiritual journey.
I've read so many books over the years that I can't be sure I haven't missed one somewhere. I reduced my library by more than half when I moved in 2013 and I still have four floor-to-ceiling bookshelves full in my office. I have tried to choose books for my top ten that represented important areas of reading. The best books often prompt us to read more by the same author or more in that subject area. All of these books have done that. And I keep buying new books and reading more. I admit that the time I now spend on social media has cut into my reading time, but it has not eliminated it. I am still completing new books! How about you?