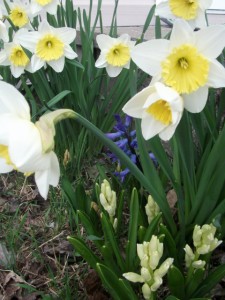 It seems like the weeks since Easter have been unusually busy for me.  How about you? I'm wondering how much of this is related to the late date of Easter?  Easter was about as late as it can possibly get this year.  For one thing, Mothers Day and college graduation season fell only two weeks after Easter, a potentially stressful conjunction of big events.  At Community Wesleyan, global partners (missions) emphasis which usually fits comfortably between Easter and Mother's Day, now was shoehorned into an already busy May as well.   
My parents and grandparents, passing down the wisdom of generations of farm families, had a saying that if Easter was late, spring would also be late. That certainly has been truly here in Syracuse this year. As a gardner, this has also added to the busyness of late April and early May. Tilling that was done in mid-April in past years could not be done until the first May. Lettuce, radishes, spinach, and peas have often been planted in April but this year are being planted in May.   At least we didn't start mowing the lawn until the first week in May.
As I reflect on it, a late Easter was nice for having crocuses and tulips out to adorn the season.  I also enjoyed the longer winter sermon series it allowed.  But I'm not sure I like the time crunch that has followed. I still think the ideal time for Easter celebration is the second Sunday in April.  But since it's not up to you and me anyway, I guess we'll just have to take it as it comes and remember that God's grace is sufficient for everyday!   Sometimes I need to be reminded of my favorite verse, "And God is able to make all grace abound to you, so that in all things at all times, having all that you need, you will abound in every good work" (2 Co 9:8 NIV).