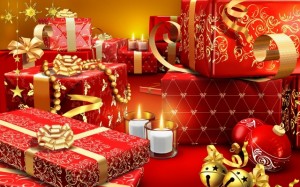 This last Sunday at Community Wesleyan was a festival of gifts.   In the Nativity Story  (http://www.imdb.com/title/tt0762121/),  the old shepherd tells Mary that each one of us has a gift.  This is a biblical truth.   He also tells Mary that her gift is the baby within her.    Later, at the stable, Mary repeats the line to him as he reaches to touch baby Jesus;  then as she holds out the child, she says, "He is for all mankind."    As with Mary, our gifts are not given us for ourselves but to help others.   That's what I saw happening this last Sunday at Community Wesleyan.    
To begin, it was the day when many brought the gifts they had purchased for those less fortunate and placed them around the brightly decked Christmas tree on the platform.  It was stacked with gaily wrapped presents.   They represented the generosity of so many, a noble gift to the Christ-child indeed.    The gifts were made more beautiful by the decorations—the result of Leah's behind-the-scenes touch.
Then there were the gifts of talents.   I am always so appreciative of those who take the time at this busy season to make sure that they give their talent back to God.   So many just bury it or use it only for themselves.    But always there are some faithful ones who will offer their musical and other talents back to God in worship.  We enjoyed two beautiful instrumental pieces.   One was a string trio, a classical sound so fitting for carols and brought to us by Josiah Durfee, Alex Paige and Carmen Hunn.   Another was a contemporary touch – two guitars, drums, and piano playing "Go Tell On the Mountain" (Mark Cloutier, Shaun Harrington, Aaron Wilkinson, and JoAnne Jones).    We reveled in the quiet of the carol, "Silent Night" sung a cappella in a perfect family blend by Licia, Cassie, and Kaitlyn Swain.   Mike Lamb, unofficial poet-in-residence,  read a new, thought-provoking  work he had written and the choir directed by JoAnne Jones inspired us with Vivaldi's "Gloria"  and the striking "In the First Light."   
Then there were the personal gifts – probably some I will not know about who gave gifts to a teacher or friends.   I received some.  I helped to collect and give one special one to someone who has helped us so much here at Community Wesleyan, our webmaster.   
It all blended with the theme of the message too – if we, as imperfect as we are, know how to use our gifts for others and give gifts that are appreciated; how much more will our heavenly Father give good gifts to those who love him!