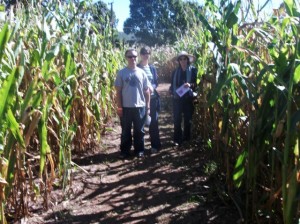 Fall is a great time for family fun.  On our recent two day trip to Keely's and Mark's house, we took time for a couple typical fall activities.   The most fun one was a big surprise to me.  I thought I was just going along but ended up really enjoying it.   Life often works that way doesn't it.  It's one of the reasons God gives us friends and family to push us a little out of our ruts. 
Back to the story—we went through a huge corn maze.  And we had the pick of days for it too – a sunny fall beauty in the Connecticut countryside with autumn colored roadside hedges, pumpkin fields and grazing cattle.  Looking at the map of the field, however, I just knew they used modern technology to cut it.   Inquiring, I found out I was correct; a GPS was used to mark the cuts.  I never did find out exactly what the paths were originally cut with, though I confirmed my observations that they were cut some time before so that they could be made smoother.  In this maze were hidden posts that we needed to find.   Doing a crayon rubbing of the emblem on the top of the post proved that you found it.  This made it more of a puzzle as you found yourself guessing where they would have hidden the thematic posts; traversing unlikely parts of the maze; and generally getting about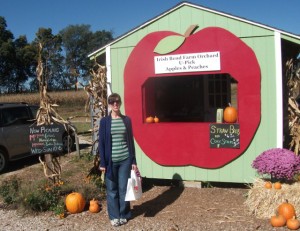 twice as much exercise as you had planned–which is probably a good thing.
We also went apple picking. The trees were the new size – only about twice as tall as I am so most of the branches I could reach.  I knew I would love that and the rest of the crew had to drag me away before I filled the car and spent too much money.  Orchard-ripe Mac's are just too good.  Keely, Mark and JoAnne were happy to pick a half a bag apiece.  But I filled three and…well, I might still be there if JoAnne hadn't warned me that I didn't have that much money. 
I'm always encouraging couples and families to find activities to do together besides watching movies or TV; activities that prompt conversations and laughter, that create memories to cherish and talk about later.   Such times help to bond us together in loving families.   Apple picking and solving corn mazes together are two are great examples I can personally recommend.