Saturday is was my joy and privilege to attend the dinner given in honor of Rev. Fred Bailey's 50 years of ministry in the church.   What an amazing milestone to reach.   I only remember one other ministerial friend who reached it.   You have to start young.   Fred took his first church while he was a college student.  He served 17 churches, mostly Evangelical United Brethren and United Methodist until his recent retirement.   But now he has agreed to preach on Sundays at another local UM church.   He says he has gone full circle because that is where he began as a student pastor; filling the pulpit on weekends in a small struggling church. 
I came to know Fred after his retirement when he started to attend the clergy noon prayer time with the Chittenango area clergy.  I appreciated his  sense of humor and his fervent prayers.  I learned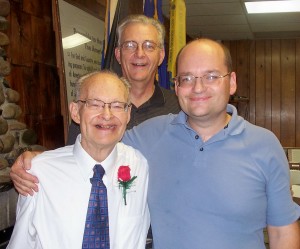 by accident that he was a graduate of Houghton College (62).   That gave us something in common as many in my family including my wife and daughter are also alums.   I am also a  current trustee at Houghton representing our district of the Wesleyan Church.   I met Fred's wife Anne-Louise and two of his children at the celebration and learned that his son Michael is also a Houghton grad (95).
I honor Fred and his wife for their faithful service to God; their exemplary endurance in the ministry and their desire to continue to be useful to our Master in retirement years.