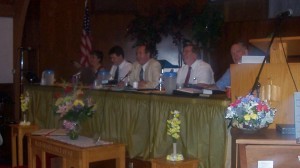 Efficient, flexible in meeting challenges, well staged, and very friendly—such words describe the job done by all the volunteers as they worked together admirably to host the annual district conference CNY district of the Wesleyan Church held here last Saturday.   We were complimented by attending delegates as well as by presiding officer, General Superintendent, Dr. Tom Armiger.    District Superintendent, Rev. Wayne Wager, and his wife, Deb, attended our service this past Sunday and also expressed their appreciation.   
As pastor, I was very impressed by the work accomplished, the good attitudes, and the way folks stepped forward to help.  The kitchen crew under Judy Cremeans did a great job.   Building preparations ahead of time under Dave Schwarz made great strides.  Especially to be commended are Larry and Sharlene Nemitz for the remodeling job on the ground floor bathrooms—Wow!   Also thanks to Eva and JoAnne for extra office and cleaning work.   Our music team led the district in worship with enthusiasm and joy in the Spirit; and our sound and technical folks rose to the challenge too.   These were just representative of many volunteers who pitched in. 
It really is an exhilarating feeling when we all work together to accomplish something.   Beforehand we look with trepidation; and we wonder how we can ever get it all done.   Afterword, we are greatly encouraged at what is really possible when we band together in unity.  "How good and pleasant it is
when brothers live together in unity! (Ps 133:1 NIV).