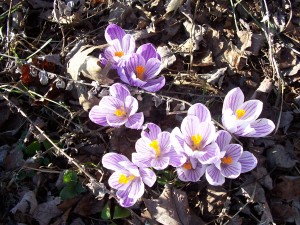 Here's my new desktop wall-paper for springtime.  Love that Bible promise, "As long as the earth endures, seedtime and harvest, cold and heat, summer and winter, day and night will never cease"(Ge 8:22 NIV).
So we are encouraged, "Let us fear the Lord our  God, who gives autumn and spring rains in season,  who assures us of the regular weeks of harvest (Jer 5:24)." 
But just as important to me at this time of year as the outward signs of spring is the reminder that the springtime is symbol of God's renewing presence in our lives.    "Let us acknowledge the Lord; let us press on to acknowledge him. As surely as the sun rises, he will appear; he will come to us like the winter rains, like the spring rains that water the earth  (Hos 6:3)."   That is always my prayer for myself and our congregation at Easter time.  May God water our hearts with his Spirit and his love and cause flowers of grace to spring up  amid the brown of winter's debris as we press on to praise him!